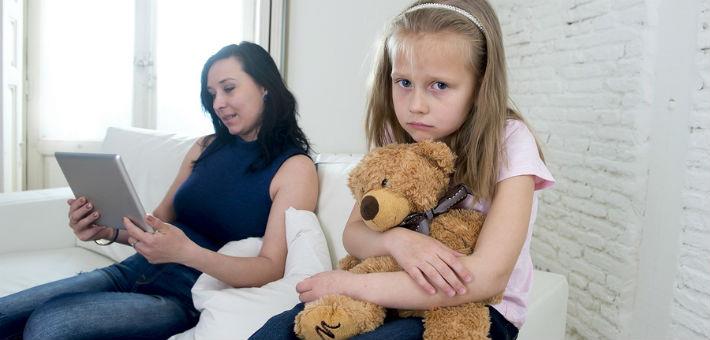 The Trouble With Mobile Moms – Mothers' Distraction by Technology Relates to Child Problem Behavior
Keywords: parents, survey, North America, computer, family communication, internet, parent-child relationship, preschoolers, television,
New technologies can facilitate social interactions, but our increasing use of technological devices might also disturb our relationships in real life. These mobile and digital-based interruptions are referred to as technoference and occur even in family bonds, for example between parent and child. A study in Child Development shows that technoference occurring within mother-child interactions relates to child problem behavior.
Take aways
Parents who report more frequent and invasive use of mobile technology use also experience technoference more often -- interruptions in the interaction with their child due to their technology use.
Technoference in mother-child interactions relates to child problem behavior. This is not the case in father-child interactions.
These findings suggest that parents should practice deliberate screen-free time with their child. However, future studies are needed to examine whether this actually leads to improved child behavior.
Study information
The question?

How does parents' technology use relate to technological interruptions in the parent-child relationship? And how does this technoference relate to their child's problem behaviors?

Who?

168 mothers and 165 fathers from 170 families with a child under 5.5 years old (mean child age = 3 y/o; 55% girls; 92% of the parents were White, 95% was married, and 73% had at least a bachelor's degree)

Where?

United States (53% Northeast, 16% Midwest, 16% South, and 15% West)

How?

In an online survey, mothers and fathers answered questions about their technology use (for example, whether they could resist checking their phone when a new message came in) and technoference (the degree to which several technological devices interrupted the interactions with their child). Moreover, both parents reported on their child's externalizing (temper tantrums, restlessness, hyperactivity) and internalizing (e.g., whining, being easily hurt) problem behaviors.
Facts and findings
Almost all parents indicated that, on a typical day, the interactions with their child were interrupted by their own technology use, and only 11% said technoference never occurred (Figure 1).
Mothers more often than fathers found their own technology use problematic (e.g., excessively using their mobile phone, inability to resist checking their phone when a message came in).
Mothers and fathers who reported more problematic technology use also reported more frequent technoference in the interactions with their child.
Mothers who reported higher levels of technoference also reported more child externalizing and internalizing problem behaviors.
Interestingly, fathers' parent-child technoference was not associated with children's externalizing and internalizing problem behavior. One explanation the authors provided for this finding is that mothers spent more time with their children (e.g., as a result of working part-time) and that there were thus more opportunities for technoference in the mother-child as opposed to the father-child relationship.
Critical note: From this study it cannot be concluded whether greater technoference causes child problem behaviors (e.g., because of decreased parental availability and responsiveness) or whether child problem behavior prompts parental technology use (e.g., as a means of a parental coping strategy), and consequently parent-child technoference.