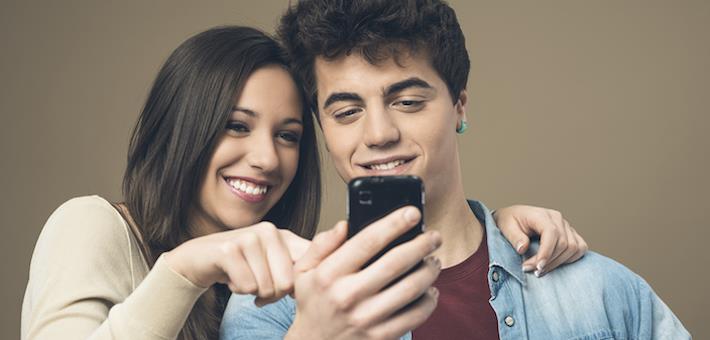 Teens Do Not Believe (Yet Do Aspire!) Romantic Ideals in Media
Keywords: internet, media, teens, North America, focus groups, interview, mobile, mobile phone, social media, youth communication,
Latin-American teens believe that media portray unrealistic ideals of romantic relationships, a study in Journal of Children and Media shows. Moreover, they see a difference in how different media platforms influence romantic relationships. Whereas one-to-one platforms such as Skype are seen as beneficial for relationships, one-to-many platforms such as Facebook are not.
Take aways
Latin-American teens believe that the media portray unrealistic ideals of romantic relationships. Nevertheless, they still try to achieve these ideals. 
They believe that one-to-one communication via media (e.g. Skype) is beneficial to romantic relationship, but that this is not the case for one-to-many social media (e.g. Facebook). 
Posting photographs, partner communication and third-party communication on one-to-many communication platforms leads to relational uncertainty.
Study information
The question?

How do Latin-American teens perceive that media influence their (conceptions of) romantic relationships?

Who?

44 Latin-American aged 15 to 19 years (mean age: 16 years; 59% girls). 35 teens had a desktop or laptop at home, and 36 had a smartphone. Finally, roughly 40% said their parents monitored their social media accounts.

Where?

United States

How?

Teens were recruited via community organizations, a paid Hispanic market research agency, and by posting fliers on public bulletin boards. This resulted in 3 female and 2 male focus groups.

Focus groups were conducted in May and June 2013. Trained same-sex moderators led the focus groups and note takers wrote down major themes and ideas. In each group, a focus group guide was used. This guide contained several key questions, for example about the way mass media portray romantic relationships, the way teens use media to communicate about romantic relationships, the apps they use to maintain relationships, and whether they ever experienced a situation in which internet was helpful/harmful to their romantic relationship. Focus groups lasted between 90 and 120 minutes.
Facts and findings
Teens agreed that media tries to influence them by telling them how to look, talk and act. Most importantly, they also indicated that the media portray unrealistic ideals of romantic relationships. Especially the girls agreed that for example 'romcoms' raise too high expectations about love. 
However, teens also agreed that the media offer an ideal to which to aspire. Boys for example indicated that as the media portray it to be cool to have a lot of girls that like you, they feel pressure to obtain this ideal. 
The teens agreed that when it comes to communication via media, different media platforms differently influence romantic relationships. They made a distinction between 'more intimate two way, interactive communication', such as Skype or FaceTime and 'one-to-many forms of communication' such as Facebook and Instagram. The two-way platforms were thought to have positive outcomes, especially at early stages of relationships and to maintain relationships when being separated by time or distance. On the other hand, the one-to-many platforms were evaluated as largely negative for romantic relationships. 
Looking at the one-to-many platforms, most teens said to try not to put anything online about their relationships, as it could lead to relationship uncertainty. They mentioned three sources that create this uncertainty:
posting photographs on these platforms could lead to problems and uncertainty, as a lack of context could lead partners to make assumptions about their partner's intentions and behaviors. 
partner communication on these one-to-many platforms could also lead to uncertainty. This communication is open to others' interpretation and comments. Boys also felt pressure to upload and comment on their girlfriend's walls and pages. 
third-party communication as most threatening to relationships. Girls indicated that seeing your boyfriend talking to another girl leads to uncertainty about his commitment or well-being of the relationship.