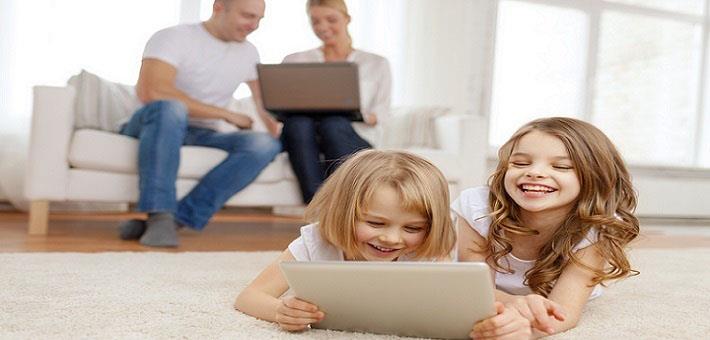 Teens' Computer Use Equals Parents' Use
Keywords: computer, internet, parents, teens, tweens, North America, survey, technology,
A study in Journal of Children and Media investigates how parents' computer use compares to their teenage children's. The study shows that parents can influence their teens' computer use intentionally, for example by tracking their Internet behavior. But they can also influence their computer use unintentionally, by serving as a role model.
Take aways
Parents can influence their teenagers' computer use intentionally by tracking their internet use and their online whereabouts.
But they can also influence their children's computer use unintentionally by modeling their media behavior.
Parents should be aware of the fact that they serve as role models in their children's computer use, even in the teenage years. 
Study information
The question?

How is parents' computer use associated with that of their teens?

Who?

629 12- to 17-year-old (mean age: 15 years old; 52% boys) and a parent (mostly the mother)

Where?

United States

How?

Parents-child dyads were recruited through an online panel managed by a large company in the United States and answered questions about their internet behavior, time spent with computers, and parental mediation.
Facts and findings
Teens used their computer more often outside of school, if their parents also spent a lot of time using their computer outside of work.
Teens spent more time on instant messaging or social network sites when their parents also engaged in these activities.
The more teens perceived that their parents monitored their whereabouts, the less teens' engaged in instant messaging, social networking site use, video streaming, and online games.
Remarkably, the more teens perceived that their parents tracked the specific things they were doing on their computer, the more they engaged in instant messaging.
Younger teens reported higher levels of parental monitoring and mediation of their computer use then older teens.
Older teens spent more time with their computers and using the Internet than younger teens.
Critical fact: This study does not allow for any conclusions about cause (i.e., parents computer use) and effect (i.e., teens' computer use). The results only show that teens' computer use is associated with that of their parents.