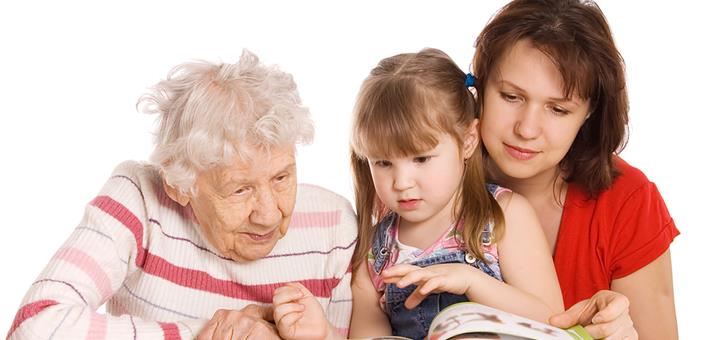 Same Old Story, New Technology: Videoconferencing And Reading as a Family
Keywords: experiment, internet, interview, kids, parents, tablet, North America, computer, family communication, interactive media, learning, literacy, media, preschoolers, technology,
A study presented at the 28th Conference on Human Factors in Computing Systems explores two promising video conferencing technologies for shared family book reading: Family Story Play (a Nokia and Sesame Street concept) and more traditional video conferencing software (Skype). Family Story Play creates engagement and interaction through a popular character (Elmo from Sesame Street).
Take aways
Video conferencing can encourage kids to read with their parents and grandparents—even over long distances.
A popular character (like Elmo) can hold a child's attention while reading, but can also be a distraction if the adults cannot control it.
Parents are an important go-between children and their grandparents. 
Study information
The question?

How do children, their parents and grandparents experience shared book reading with long-distance family members via different video conferencing interfaces?

Who?

Eight families with children between the ages of 2 and 4

Where?

USA

How?

Half of the families read together using a Family Story Play video conference (which includes a physical book, two touchscreen tablets, video, and Elmo, a popular Sesame Street character) and the other half used a standard video conferencing interface (Skype). In both groups, children and grandparents saw each other and read together. The researchers recorded the session and interviewed the parents and grandparents about their experiences afterward.
Facts and findings
Children's responses:

The kids were engaged in both the Story Play group (paid attention 97% of the time) as well as in the Skype group (84% of the time). 
The kids in the Story Play group had more fun and showed more interest in the actual book than children in the Skype group.
Children in the Story Play group paid a lot of attention to Elmo (they responded 68% of the time he was talking to them). However, some children liked playing with Elmo so much that they stopped paying attention to reading.

Grandparents' responses:

Grandparents enjoyed the Story Play and Skype readings equally.
The Story Play group had more interaction with their grandchildren but grandparents also preferred the larger display on Skype. 

Parents' responses:

Parents enjoyed the Story Play book reading more than on Skype.
Parents played an indispensible role in both groups, helping things go smoothly. 
On average, the Family Story Play group lasted for 11 minutes and 48 seconds and the Skype group lasted for 8 minutes and 23 seconds.