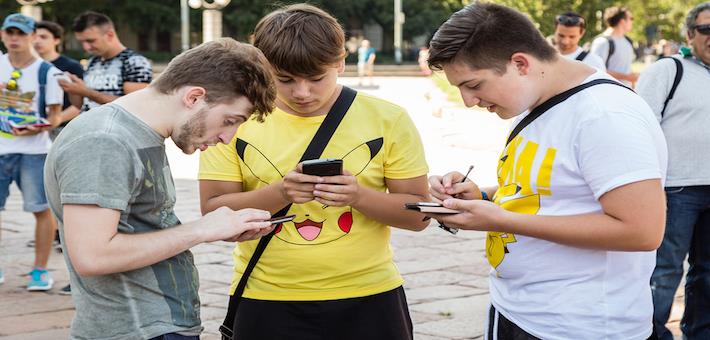 Playing Pokémon GO Can Increase Physical Activity...Under the Right Conditions
Keywords: games, health, North America, mobile, mobile phone, physical activity, young adults,
A study in Computer in Human Behavior shows that the physical activity of young adults who play Pokémon GO is lower than of those who do not play Pokémon GO. However the physical activity of Pokémon GO players can be increased when the game is played under certain conditions. So under the right conditions Pokémon GO can become a useful tool for a health promotion among young adults.
Take aways
In general, Pokémon GO players are less active than people who do not play Pokémon GO at all
However, playing Pokémon GO does lead to more physical activity among young Pokémon GO players when they play during weekdays under the following conditions:

during daytime
in an urban environment 
while being already active instead of playing while sitting

Pokémon GO players who play during the weekend are more active when they play:

in the morning or evening
and in an urban environment

Game producers, policy makers and health practitioners should know that these gameplay conditions play an important role in the effectiveness of games that try to increase physical activity of young adults.
Study information
The question?

Is there a relation between Pokémon GO gameplay circumstances and physical activity?

Who?

74 young adults with a mean age of 19.6 years (50% females). The majority (77%) was white/Caucasian. 42.7% of the young adults did not play Pokémon GO, whereas 57.3% did play Pokémon GO

Where?

United States

How?

The participants first filled out a questionnaire about their use of smartphone-, videogame-, social network- and Pokémon GO-. The young adults then filled out a questionnaire in which they answered questions about their physical activity of the past 7 days.

Afterwards, the participants installed an app that counted their steps to measure their physical activity. The young adults also installed an app that prompted questions about their physical activity three times per day (12 pm, 7 pm and 10pm). For 7 days they answered questions about the amount of steps they took, the time of the day that they played Pokémon GO, the environment in which they played, whether they played it alone or with friends, and the specific type of activity they used to play (sitting, standing, walking, running, cycling or driving).
Facts and findings
Young adults who indicated to not play Pokémon GO at all, reported more steps than people who indicated themselves as Pokémon GO players. This could be explained by the fact that gamers usually have a more sedentary lifestyle than non-gamers.
The gameplay conditions of people who played Pokémon GO led to the following results:
Time
During weekdays, young adults who indicated to play Pokémon GO in the morning (before 12 pm) or in the afternoon (between 12 pm and 7 pm) made more steps than those who did not play at those times. This was not the case for people who played in the evening (between 7 pm and 10 pm).
However, during weekends, those who played in the morning and evening made more steps than Pokémon GO players who did not player at that moment. So, playing in the afternoon did not lead to making more steps. 
Environment
Those who played in an urban environment at weekdays in the morning and the afternoon made more steps than those who played somewhere else or not at all. During weekends the number of steps only increased when people played in an urban environment during the morning or evening.
Playing Pokémon GO in green areas only led to more steps when people played in the evening on weekdays. 
Being active
Playing while already being active (so for example playing while walking, running or cycling) instead of passive (for example playing while sitting) led to an increase in steps during the day but not while playing in the evening 
Being social
The number of steps did not increase when people played with other people instead of playing alone.