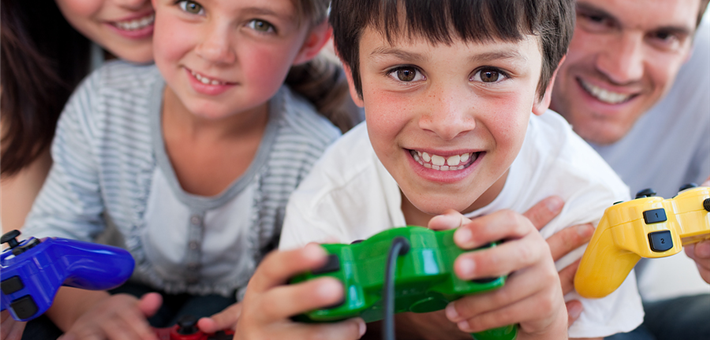 Johnny Can't Read? Video Games Can Increase Literacy And Self-Confidence
Keywords: computer, education, games, interview, kids, learning, literacy, parents, Western Europe, entertainment-education, family communication, gaming, interactive media, media, social policy,
Struggling readers can learn a lot by playing educational videogames at home, according to a study in Learning, Media & Technology. Good educational videogames have entertainment value, repetition, and positive feedback. Ideally these go together with respected classroom programs.
Take aways
Educational games played at home can work hand in hand with classroom-based literacy programs, if the games:
are both educational and entertaining,
give instructions while playing the game;
become easier or harder by adjusting to the child's performance.
Important game features include:
enjoyment
repetition
positive feedback
parental involvement
links to respected classroom-based programs increases their credibility.
Study information
The question?

How do parents and children evaluate digital literacy games when used at home?

Who?

6 families with children between the ages of 8 and 10 years old.

Where?

Norwich, UK

How?

Researchers visited children and their parents at home, gave them a copy of the Catch Up Literacy videogames, and interviewed them about reading, parental involvement and computer games. They asked the families to use the games, and to keep track of playing time. After three weeks, researches revisited the families for follow-up interviews.
Facts and findings
Children and their parents said that the kids had fun playing the videogames and they thought they learned something from playing as well.

Benefits mentioned by children:
learning reading strategies, spelling techniques, and comprehension skills;
more self-confidence;
enjoyment of the game: design, graphics and animations, positive feedback, game challenges, and beating their best times;
playing at home meant less pressure than at school and doing an activity with their parents.
Benefits mentioned by parents:
having tools for learning that are enjoyable and based on respected classroom practices;
seeing their kids have fun, succeed, and build self-confidence;
the opportunity to feel involved and be more knowledgeable about their child's strengths and weaknesses;
the convenience of their kids being occupied by the games.
Challenges:
hard to maintain a kid's interest for a long period of time;
the games could sometimes be too difficult;
only certain types of games were available and were mostly made for boys;
parents sometimes did not understand how to play the games or help their kids.
Fun Fact: Most of the children did not play the videogames very much, preferring to do other activities instead.