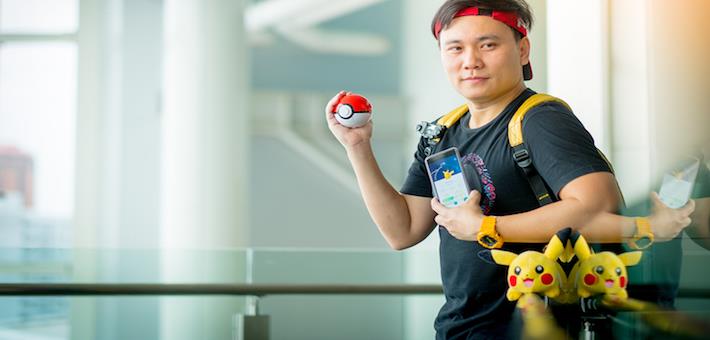 How Pokémon GO temporarily affected our health
Keywords: games, North America, gaming, mobile, mobile phone, observation, physical activity, young adults,
It was a short but intense hype--with health consequences. Young adults that went on Pokémon hunt, actually experienced a spike in their physical activity, a study of British Medical Journal shows. However, just like the hype, this increase in physical activity only lasted for a short time.
Take aways
Pokémon GO led to an increase in physical activity among young adults in the first week after installation of the game.
However, after six weeks this was no longer the case and the young adults were back to their normal activity level.
Study information
The question?

What is the effect of playing Pokémon GO on the number of steps taken daily?

Who?

1182 survey participants were recruited via MTurk. Participants were aged 18 to 35 years (Mean age: 26 years) and resided in the US. From the recruited participants, 622 (52.6%) did not play Pokémon GO, whereas 560 (47.4%) did play Pokémon GO.

Where?

United States

How?

Participants were recruited via Amazon Mechanical Turk (MTurk). MTurk is a website for recruitment of online workers which receive a small compensation for completing tasks. One condition for participating in this study was having an iPhone 6 series smartphone, because these phones' 'Health' app automatically records the number of steps taken while carrying it.

Participants responded to questions about their zip code and urbanity of residence, education level, household income, marital status, and weight and height to calculate the Body Mass Index. The zip code was matched with a validated neighborhood walkability index (car dependent / somewhat walkable / very walkable / walker's paradise). In addition, participants were asked to upload screenshots of the number of daily steps in the two months preceding the study. Participants were paid $2 for completed study participation.
Facts and findings
Pokémon GO players showed an increase in the daily number of steps the first week after installation of the game (see Figure 1).
However, this increase in number of daily steps declined gradually over the subsequent weeks.
The number of daily steps of non-players did not change throughout the study period. After six weeks the number of daily steps of both players as non-players were the same again.
Critical Note: Daily steps were only recorded when the iPhone was carried. This might have led to an overestimation of the effect of Pokémon GO because physical activity could occur when the phone is not being carried, whereas all Pokémon GO related activity was recorded.