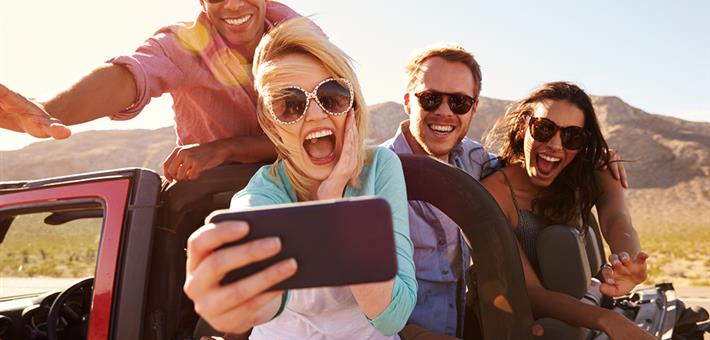 But First, Let me Take a Selfie! Top-5 Topics for Young Adults' Selfies
Keywords: popularity, media, mobile, mobile phone, personality, personality characteristics, social media, technology, young adults, youth communication,
With the growing popularity of image-based social network sites, such as Instagram, "Selfie-ism" has become a global phenomenon. A Computers in Human Behavior study reveals the most popular topics for young adults' selfies, as well as the most important factors associated with selfie taking.
Take aways
Young adults use Instagram approximately 85 minutes per day
About half of the pictures posted are selfies. The five most popular type of selfies are:

everyday-life selfies
travel selfies
hobby selfies
food selfies
social selfies

The following factors lead to higher intentions to post a selfie:

having a positive opinion about taking selfies
have friends who post selfies
having high technological knowledge
having friends to share a selfie with
having a narcissistic personality
Study information
The question?

What are the topics and predictors of selfie-behavior on SNSs?

Who?

85 Instagram users, aged between 20 and 32 years (mean age: 24 years) participated. 76 females and 9 males who had experience of taking selfies and posting them on Instagram

Where?

Not reported

How?

In May 2015, the young adults filled out a questionnaire, answering questions regarding their opinion about taking selfies (attitudes), their friends' selfie-behavior (subjective norm), their technological knowledge and the amount of friends to share a selfie with (perceived behavioral control), narcissism, engagement in SNS activities and selfie-related behavior. Six weeks later, the researchers counted the number of selfie-postings as well as the number of photo postings on each participant's Instagram account from the previous six weeks.
Facts and findings
Participants had been using Instagram for about 17 months with an average of 85 minutes per day. 

80% of the participants posted a picture at least once a week. About half of these (39%) were selfies.
Most selfies were taken in everyday life, travel, hobby, food, social, leisure, love, fashion, beauty, pet, fitness contexts, and brand objects (see Figure 1).

Young adults who liked selfie-posting more, were also more inclined to post selfies themselves.
Moreover, when young adults had a lot of friends who posted selfies, they were also more likely to post selfies themselves. A possible explanation for this is that young adults see their friends' behavior as desirable.
The more participants felt they were in control, for example by having knowledge about how to make a selfie and friends to share a selfie with, the more they were intended to post selfies, leading to more selfies posted.
Also, narcissistic participants more often intended to post a selfie on Instagram, which led to more selfies posted. 
Critical note: The sample comprised Instagram users only. However, other SNS-sites such as Snapchat, could have different needs and audiences.