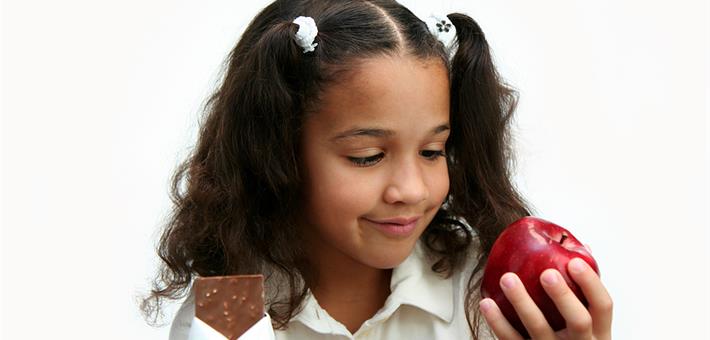 Ads For Healthy Food Can Change Kids' Unhealthy Food Choices
Keywords: advertising, fruit, health, kids, television, vegetables, Western Europe, experiment, marketing, social marketing,
A new study from Appetite draws surprising conclusions about how ads for healthy food affect kids. While pickier eaters eat unhealthy foods no matter what, most kids make fewer unhealthy food choices after seeing healthy food advertised on TV. Interestingly though, the ads couldn't get the kids to crave more healthy snacks.
Take aways
If kids are willing to try new foods, TV ads for healthy foods can lead them to eat less of the unhealthy stuff. 
Children who are unwilling to try new foods eat more unhealthy food no matter if they watch ads for healthy or unhealthy food.
Healthy food ads don't actually increase the fruit and vegetables kids eat.
Study information
The question?

Can television commercials for healthy food products alter children's food choice?

Who?

66 5- to 7-year-olds

Where?

United Kingdom (Midlands)

How?

Children watched a cartoon on TV that included a commercial break. They were divided into one of three groups: the first group saw commercials for unhealthy food products (e.g., McDonalds, Burger King) during the commercial break, the second group saw healthy food products (e.g., Co-op Fruit Range, Innocent Smoothies), and the third group saw toys (e.g., Pictionary, Guitar Hero). After viewing the cartoon, children were offered six different (healthy and unhealthy) snacks: (1) chocolate, (2) jelly sweets, (3) crisps, (4) Snack-a-Jacks,(5) grapes, and (6) carrots. They could eat as much as they wanted, and the researchers recorded the total number of calories each kid ate.
Facts and findings
The kids who saw commercials for healthy foods ate the same amount of healthy food as the others. 
However, kids who saw commercials for healthy foods responded to unhealthy food in two different ways, depending on their willingness to try new foods:

Non-picky eaters ate less chocolate after seeing the healthy food commercials;
Picky eaters ate more chocolate after seeing the healthy food commercials.

Children who watched commercials for unhealthy foods ate more chocolate.
Almost half of the children were picky eaters; and 2- to 6-year-olds were the pickiest.