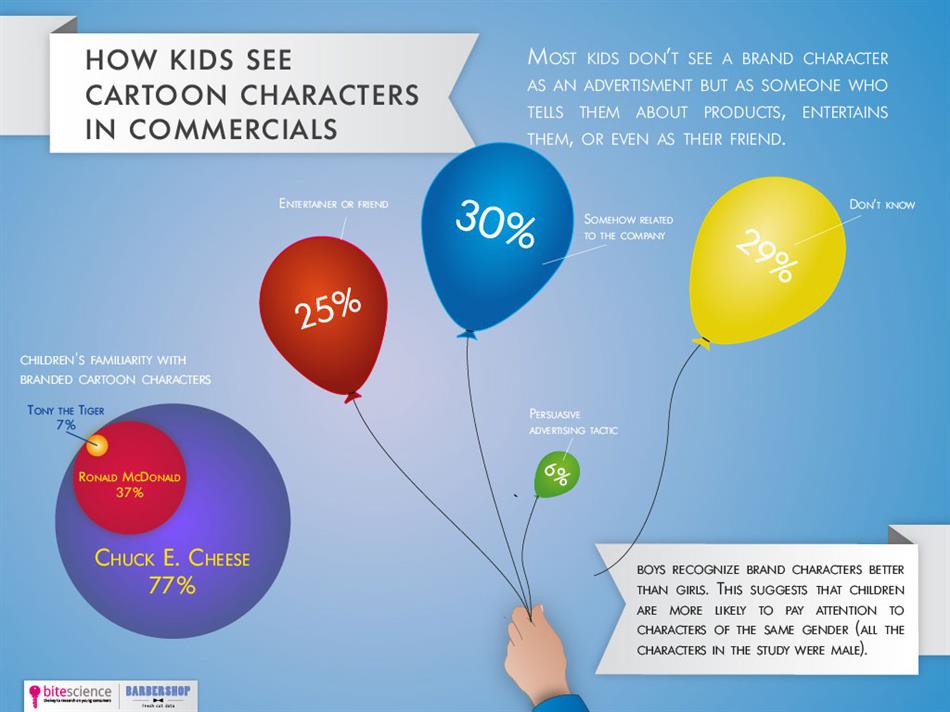 Bitefile Brand Characters
General research insights on brand characters
More than half of popular children's websites feature fun characters for advertising purposes. 
Kids like the taste of food products better when a popular cartoon character is present on the packaging. 
A popular character (like Elmo) can hold a child's attention while reading, but can also be a distraction if adults cannot control it. 
Most kids don't see a brand character as a marketing technique, but rather as someone who tells them about products, entertains them, or even as a friend.
Research insights on brand character design
When media characters have similar characteristics as the target audience, kids are more immersed into the medium (e.g., video game).
For elementary school children, use girl characters with feminine products and boy characters with masculine products (and avoid mixing boys and girls).
Boys pay more attention to male characters, girls pay more attention to female characters.
New and unknown characters can be just as effective as more expensive, licensed media characters, but only when they are carefully chosen to match a particular product (like a rabbit and carrot, monkey and banana, or caterpillar and apple).
The match should be based on content, such as familiar story lines or media images.
Research insights on brand characters and kids' diets
Brand characters on fruit and vegetable packaging can improve the diet of kids, because kids are more likely to eat healthy food that is well advertised with cartoon characters.
Brand characters can advertise healthy foods to kids just like junk food.
By making healthy food more fun and interesting, well-chosen brand cartoon characters can help kids eat healthier.